Holistically thought-out security
Technological developments from the military environment are advanced, innovative and meet the highest quality and security requirements. They have subsequently been transferred to civil applications for many decades. At RUAG, we also aim to support a wide Variety of civil customer segments with our security technologies.
As a holistic security company, our key customers include not only the Swiss Armed Forces, but also security organizations, government  agencies and rescue forces. With our competencies and developments, we help to ensure that security operations of all kinds can be carried  out successfully. Last year, in response to the Corona pandemic, we worked with armasuisse to retrofit two EC635 helicopters and make them available to transport COVID-19 patients. The retrofit work included spatial separation of the cockpit, appropriate disinfection methods  and integration of medical equipment. The two helicopters were converted within a few days and were ready for use by the Air Force. 

Our services and technologies are used in mobile disinfection containers, helicopter rescue winch maintenance and civil aviation. In the past  year, we have therefore once again demonstrated that at RUAG, we make a significant contribution to societal security.

To further promote the transfer of military technologies to civil applications, we have explicitly anchored this in our new corporate strategy. We  consider it our responsibility to think of security holistically.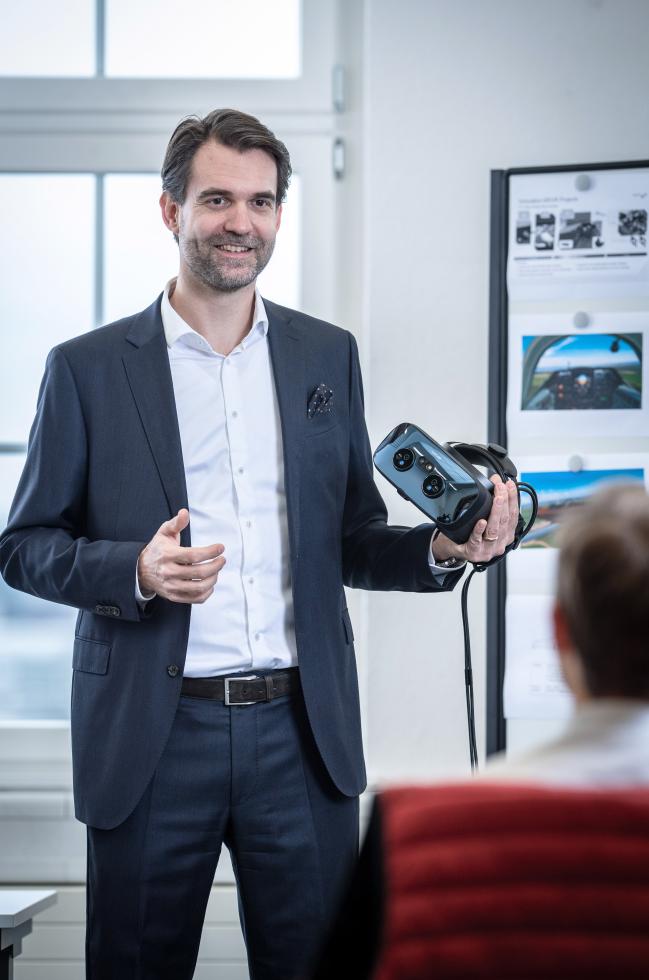 BAS GOUVERNEUR, CHIEF TECHNOLOGY OFFICER

Bas, what importance does "innovation" currently have at RUAG?

As a company with a demanding mission, technological innovations are of great strategic importance to us. Because we are committed to  providing answers to both existing and new challenges. That is why we defined our focus topics, or so-called strategic initiatives, last year. They include in particular projects with future technologies relevant to us.

Can you give us some insight into the current efforts?

"New technologies" is one area, "new business models" is another. It's also about innovative services and platforms that we would like to offer  to be able to make new value propositions. RUAG has great potential for this market, as we are very broadly based, well networked and well  positioned. Our diverse digital solutions will support us in this.

Are we on track to implement our plans?

We completely relaunched the entire innovation process last year. However, new, important projects were also a challenge, such as the  KICKBOX project, in which our employees were able to submit business ideas and practically overwhelmed us with ideas. In order to promote  innovation, we may become a little bolder and make decisions more quickly – in other words, bring about a change in culture. In the coming  year, the main focus will also be on handing over the innovation projects to the line. The aim is to pass on the passion from the innovation phase  to product development as well, so that these "little seeds" will grow and flourish.