Starting signal for strategic investments at the Thun site
We are investing at our site in thun so that we are optimally equipped for future tasks. At one of our main sites, we are presenting three investment projects that offer added value for the general population and for our customers: the opening of Uttigenstrasse as well as the go-ahead for two new construction projects in the RUAG industrial park, which focus on long-term technology leadership in the areas of ground-based systems and complex testing services.
RUAG's industrial and business park in Thun has around 282 000 m2 of floor space, almost the size of 40 soccer fields. It is structured into a  public part along Uttigenstrasse and a secured operational part along the Thun-North bypass. In December 2021, Uttigenstrasse was opened as  a central access road for public non-motorized traffic. This will make it possible to meet local needs and create a new neighborhood called  Tryber, which offers a great deal of potential for new forms of work and collaboration between the companies located there.

The company site is reserved for the maintenance and further development of the RUAG production site. In the future, the Ground business area will continue to provide priority securityrelated industrial services for the benefit of the Swiss Armed Forces. In this context, two new buildings  are under construction to ensure that RUAG keeps its position as leader in groundbased system technology and complex testing services will be maintained in the long term. A Test Center for Electromagnetic Compatibility (EMC) and a facility for an electrically powered and universal  transmission test bench are being built.
The new Test Center for Electromagnetic Compatibility will be the largest EMC infrastructure in Switzerland when completed. Test objects can  be tested for their electromagnetic compatibility according to the latest technology standards. With the construction of a universal  transmission test bench, RUAG is also consolidating its core competencies in military transmission repairs and overhauls, in line with the  company's strategic orientation. The facility, with its modular adaptation concept and a new electric drive in testing military transmission applications, will be a world leader and set new standards. By eliminating combustion engines as drive units, RUAG is also helping  to reduce noise and exhaust emissions.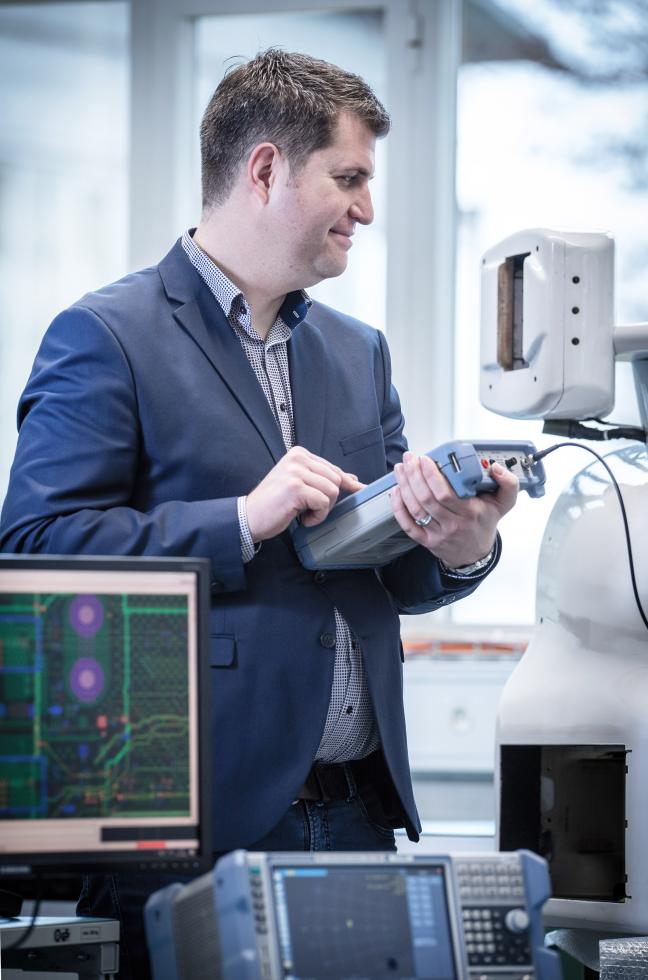 DANIEL RINGGENBERG, PROJECT MANAGER DETECT & AVOID

Daniel, can you briefly explain Detect and Avoid to us?

Detect and Avoid is a system that independently detects other aircraft, presents the aerial situation image to the pilot of the unmanned aerial  vehicle, and ultimately initiates an automatic avoidance maneuver with the unmanned aerial vehicle if there is a risk of collision. With this  project, RUAG is supporting technological progress in the field of unmanned aerial vehicle security, particularly in the Swiss ADS 15  reconnaissance drone.

What's so unique about the Detect and Avoid system?

Detect and Avoid is a completely new system. At present, no comparable product has been fully developed anywhere in the world. In this way,  we are carrying out pioneering work along with our partners. Naturally, in such a project, new issues may arise during the process that need to  be resolved. We have expanded our existing competencies, and by achieving key milestones we have been able to demonstrate our in-depth expertise in unmanned aerial vehicles. 

What are you most proud of?

The Detect and Avoid System is one of RUAG's most innovative projects. Along with my project team and with the support of other employees,  we have a central role to play in the approval of unmanned aerial vehicles in Switzerland. Thanks to various successful laboratory tests, we  have gained the confidence of unmanned aerial vehicle manufacturers. The laboratory tests lead to a flight clearance for the planned flight  tests in Switzerland. With our development, we are making a significant contribution to security in Swiss airspace and therefore to the security  of Switzerland.