Container systems to ensure the safety of your crew and equipment
In modern-day conflict scenarios, flexibility and speed are essential. RUAG offers mobile control centers, medical systems, and support infrastructures, which are housed in 20-ft shelters as per the appropriate ISO standard and can be easily transported to their place of deployment.
It takes just a few hours to erect and dismantle these climate-controlled shelters on any terrain. They can be further expanded in some areas, providing a spacious and efficiently organized working environment that simultaneously ensures the safety of all personnel and their equipment. All containers are manufactured in Switzerland and are CSC-approved. Our specialized technicians provide support around the globe.
Our expertise for mobile containers at a glance
Downloads
Would you like to learn more about our services? Here, you can download various additional information.
Command & Control-Container systems
It is vital for management and leadership personnel that their workplace be safe and efficient, providing adequate levels of comfort while being easy to transport. RUAG supplies high-tech control centers in a range of designs that can be used in many different ways.
Command post shelter 1:1, 1:2 and 1:3
The command post shelter is available in three different versions. The 1:1, 1:2 and 1:3 variants differ in their usable area. All three versions can be converted into a 20-foot ISO container for transport.
The shelter has flexible usage options, e.g. as a radio station, relay station, network node or command center
The useful area of each design is 11.5 m2 (1:1), 17m2 (1:2) and up to 35 m2 (1:3)
The shelters provide reliable protection against nuclear electromagnetic pulses (NEMP)
Guarantee of electromagnetic compatibility (EMC)
Protection against listening in (taps/bugs)
RF shielding
Ballistic protection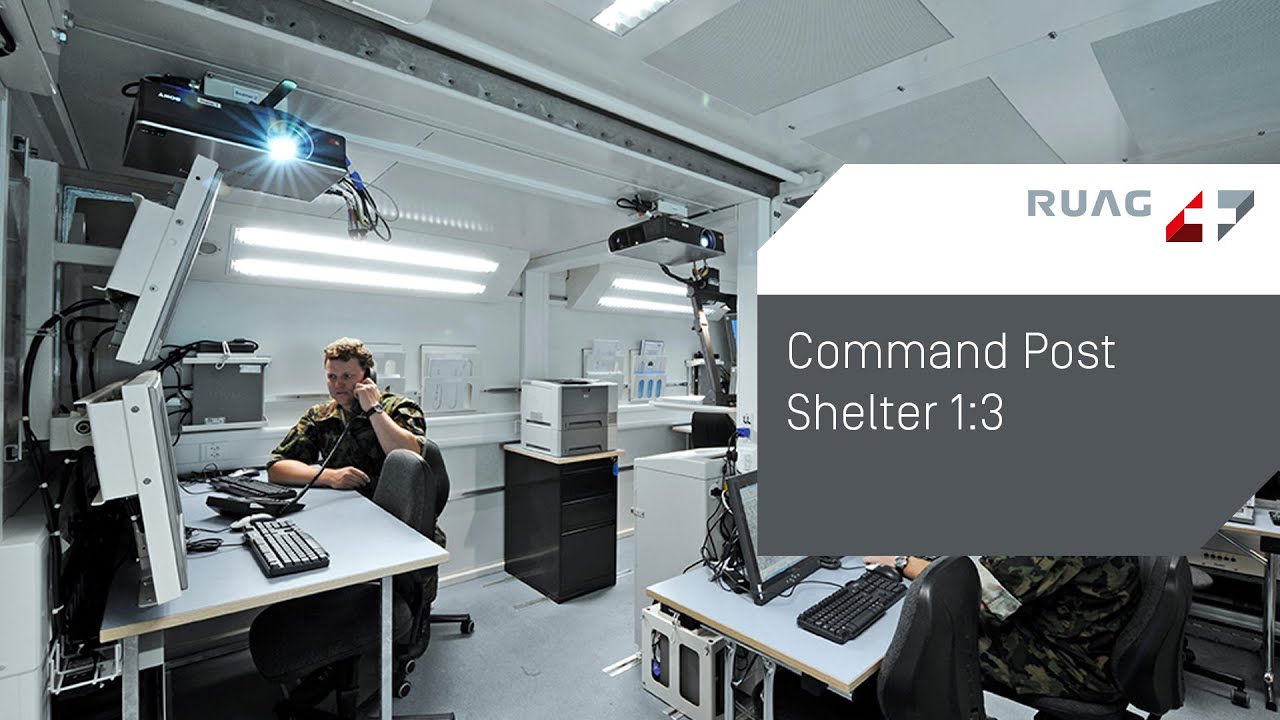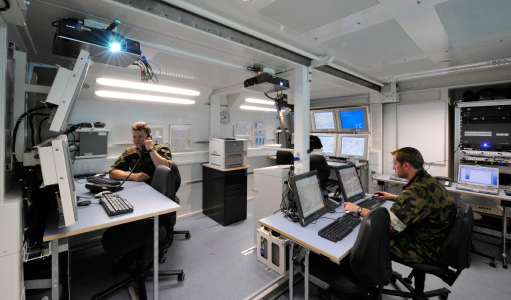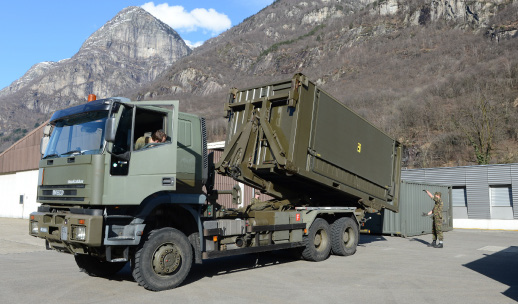 Support-Container Systems
Our support container systems provide protection and work space for every situation: whether it's as a decontamination system for nuclear, biological or chemical events, or as a functional workshop, RUAG ensures that they are equipped as effectively as possible.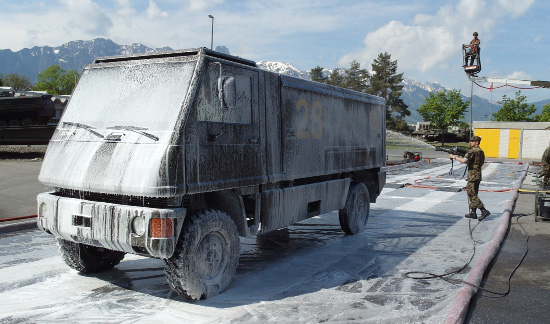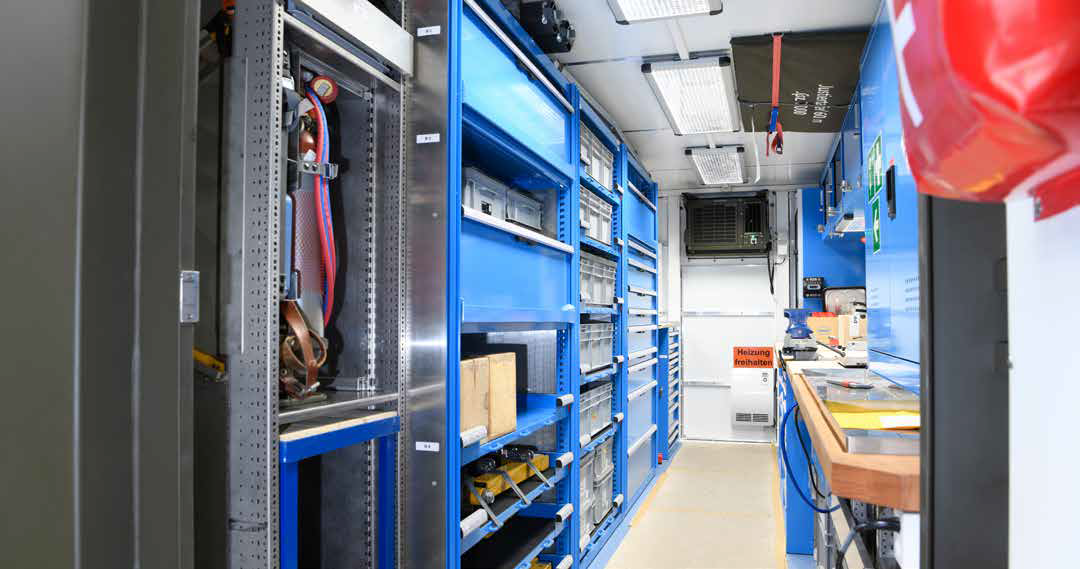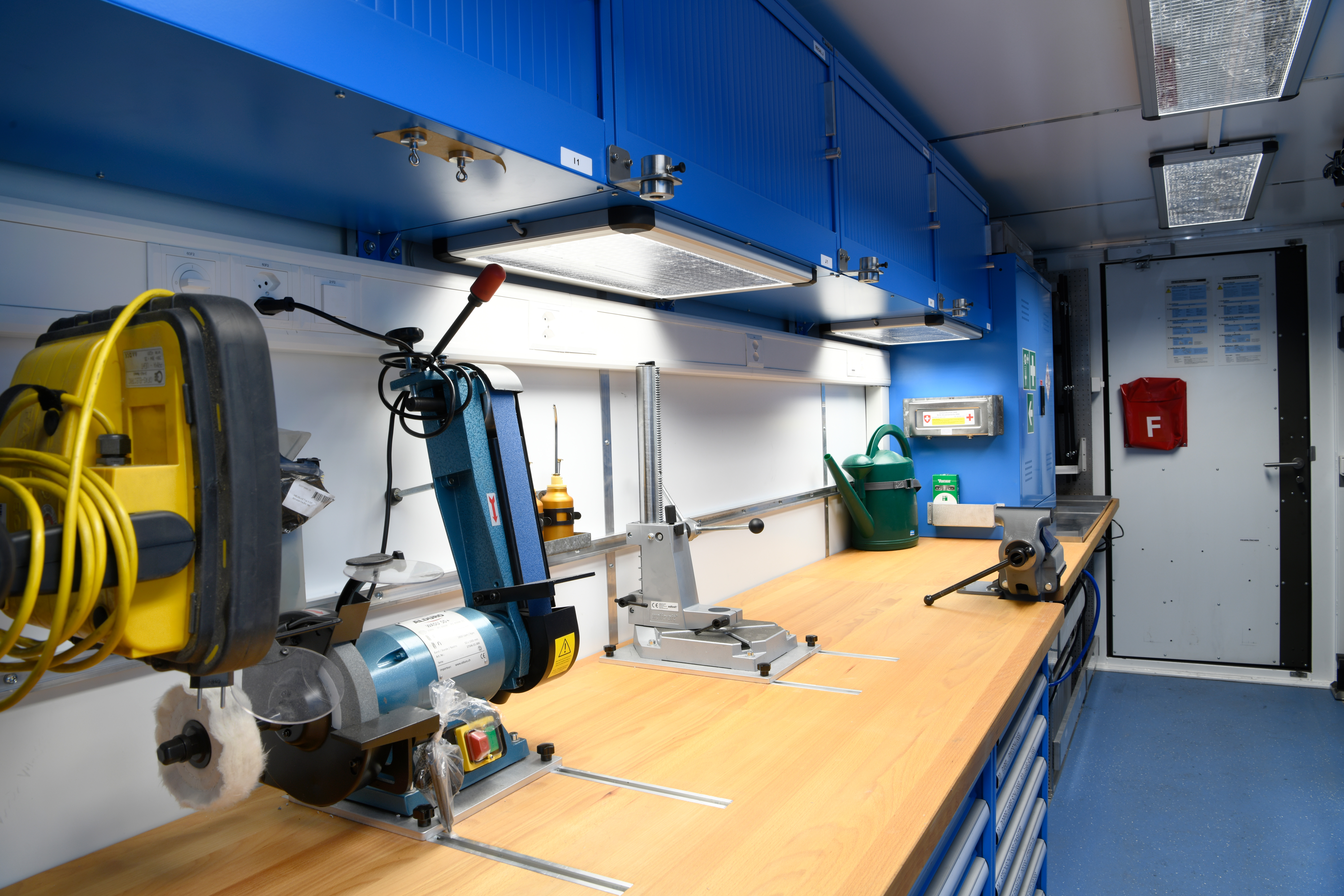 ABC Decontamination System
In the event of an atomic, biological or chemical event, decontamination is always required. RUAG offers a mobile decontamination system for vehicles, personnel, infrastructure and equipment.
For military use and for emergency aid applications
Integrated supply systems for autonomous operation
Power supply, water tanks, shower and decontamination agents
Weather-resistant storage compartments and shelves
Workshop Container
In order to carry out repairs in the field, a functional and comfortable workplace in a protected environment is essential. RUAG supplies mobile workshop containers that can be used for a wide variety of tasks while ensuring safe storage of tools and equipment.
Modular and adaptable; can be deployed for a wide variety of tasks
Safe storage of all devices in one place (workbenches, storage compartments, machines, tools)
Type-specific and multifunction tools and equipment
Air conditioning
Mobile Medical Container Systems
RUAG develops and manufactures mobile medical container systems to ensure medical care for armed forces in emergencies. They can be used in many different locations and under any conditions, including disinfection, sterilization or as field hospitals and emergency aid stations.
Desinfection Container System
Humanitarian aid needs to be rapid and effective. RUAG's mobile disinfection unit – developed on behalf of armasuisse for the Swiss Armed Forces – helps to resolve hygiene issues and prevent the transmission of infectious diseases.
Suitable as part of military infrastructure, for peace-keeping missions, disaster-relief operations, humanitarian aid, asylum and refugee centers, old-age and nursing homes.
Autonomous operating system, consisting of 3 containers (disinfection, logistics and accessories) and an external power generator
Modular and adaptable to different tasks (cleaning of mattresses, pillows, clothing, bed frames, wheelchairs, etc.)
Disinfection chamber with a capacity of 3.2 m3
Efficient disinfection (e.g. up to 15 mattresses in 45 minutes)
Meets civil standards for thermal disinfection as well as for non-invasive and non-critical reusable medical devices
Sterilization Container System
RUAG's mobile sterilization system – developed on behalf of armasuisse for the Swiss Armed Forces – ensures the sterility of supplies to medical facilities. Medical instruments are pre-washed, chemically cleaned and packaged in a controlled zone. Viable microorganisms (e.g. bacteria, viruses, fungi and spores as well as prions) are sterilized at 134 °C in accordance with SN EN 556-1, so that the sterilized and packaged instruments can be stored without difficulty.
Autonomous operating system consisting of four containers (washing/cleaning system, sterilization zone, storage area, dressing area and technical systems)
Sterilization chamber made up of 6 sterilization units, each with a capacity of 54 liters, and a throughput of 12 sterilization units per hour
Function-based zone classification within the building with separate ventilation systems
Air filtration meeting medical standards
Integrated supply systems (water treatment, compressed air, air conditioning, electricity)
All cleaning and sterilization devices are integrated into the container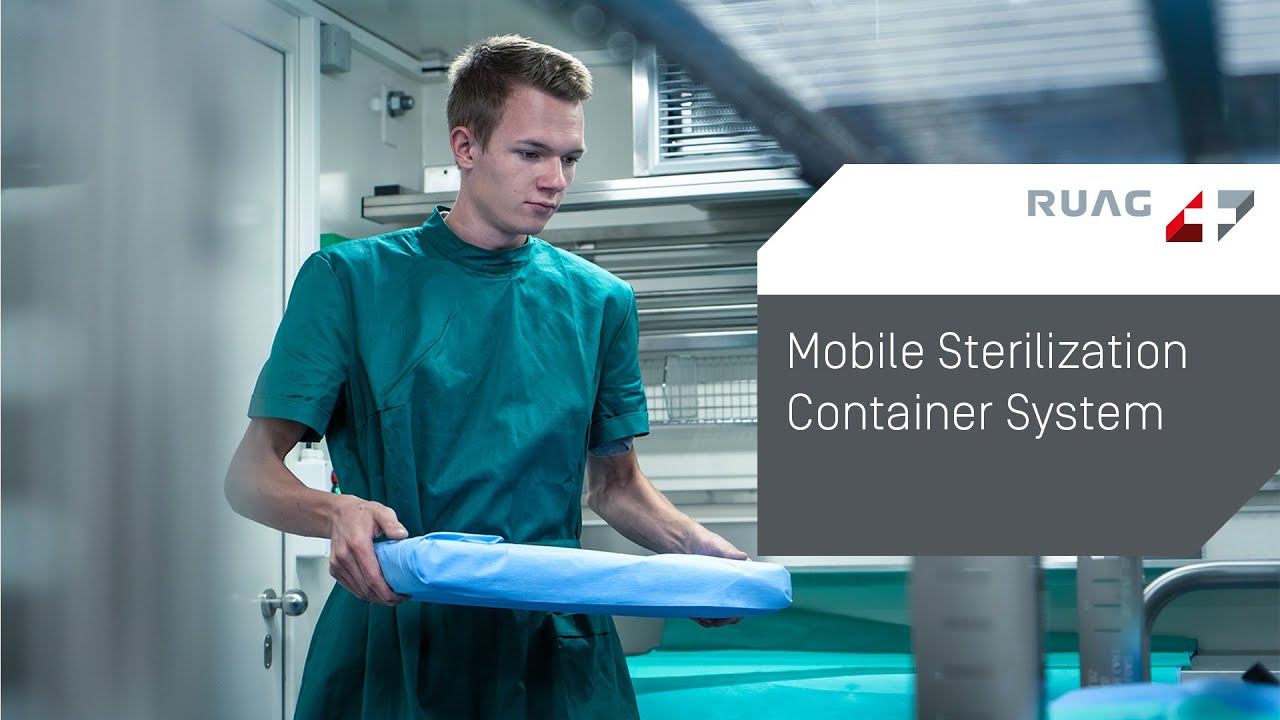 Field Hospitals
With a combination of standard, expandable or foldable ISO containers, our mobile medical facilities make it possible to provide comprehensive civilian and military care across the globe. Our solution is based on cooperation with planning companies who design Swiss hospitals: they have constructed more than 50 hospitals and radiological facilities and implemented community practice projects of different sizes worldwide.
A complete solution for the development, construction, commissioning, training and operation of mobile hospital facilities
Rapid and independent humanitarian aid
Complete field hospital facility established within 24 hours
Integrated cooling and heating systems
Autonomous energy and water supply