Renting seminar rooms: the Collaboration Lab
Rent deluxe seminar rooms in Bern Business park: You and your team can immerse yourselves in an inspiring atmosphere, far from that of day-to-day business. Think up solutions, develop processes, draw up new fields of business, and brief your employees! To help the process, we have set up a unique Collaboration Lab: a 110 m2, state-of-the-art workspace and the perfect infrastructure to motivate and inspire people.
Rooms for innovation, projects and workshops
This is what your workshop could look like: arrive, stimulate, inspire, produce, celebrate.
Seminars, workshops and meetings are meant to make a difference. We support this process with some very special, unconventionally furnished seminar rooms that are guaranteed to put your seminar participants in an inventive and creative mood. Whether it's for development, learning or production, our innovative Collaboration Lab can make a very special contribution to the atmosphere and outcome of your event.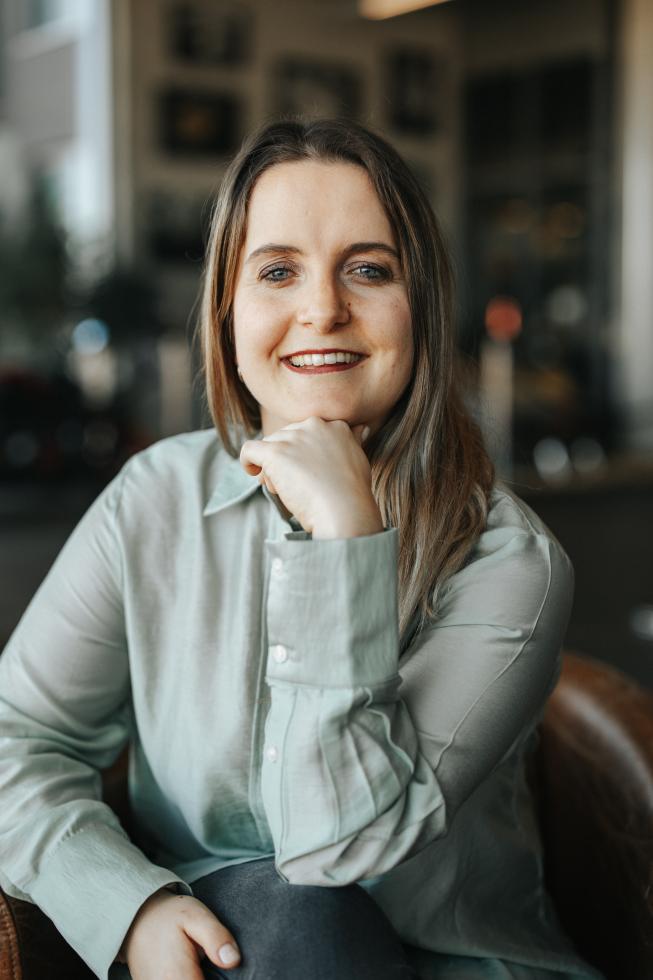 «  Our innovative Collaboration Lab brings a special contribution to the results of your events.  »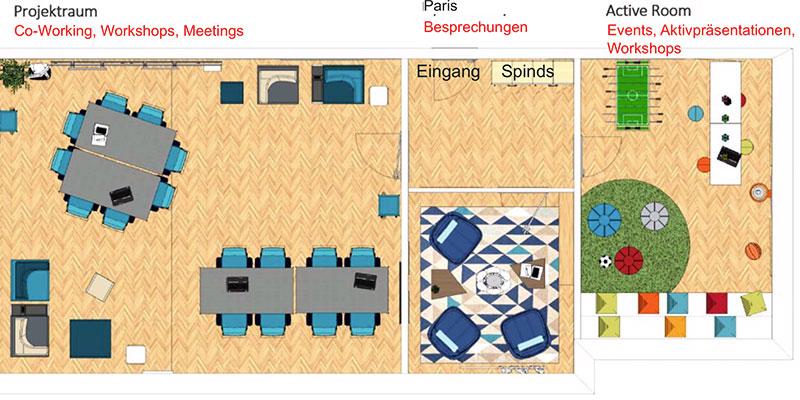 The rooms can be rented by the hour, for several days, for up to a week or even for lengthier projects. We would be happy to provide advice about tailored rental options and numerous additional services (catering, lunch, BBQ, after-work drinks, team events, coaching, moderation). We wish to provide you and your team with a creative experience, free of organisational hassle.
1) Welcome "home": arrive and settle in.
Once your employees or participants have arrived at the Collaboration Lab, they should feel comfortable and at home right away. Participants can store their luggage in a secure locker and arrive feeling relaxed. The facilities feel much more like a vibrant, tidy, 5-room apartment than a cold and lifeless seminar room.

Most participants will have travelled elsewhere before arriving, with all of these different energies then finally meeting in the Collaboration Lab. The inviting atmosphere welcomes your guests and allows them to arrive and get centred so that they can then immerse themselves in the new work environment straight away.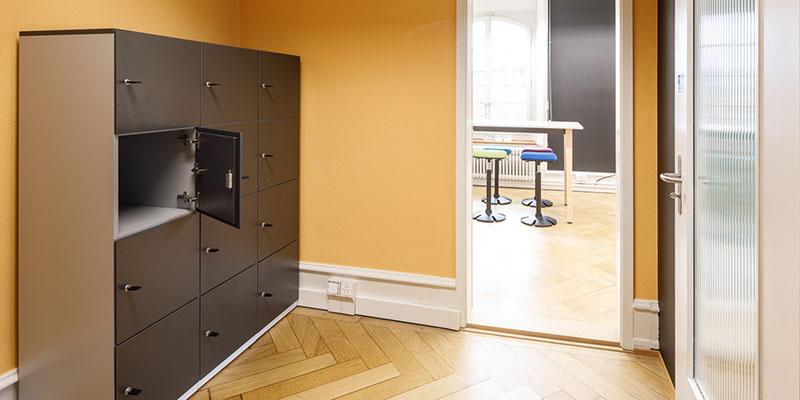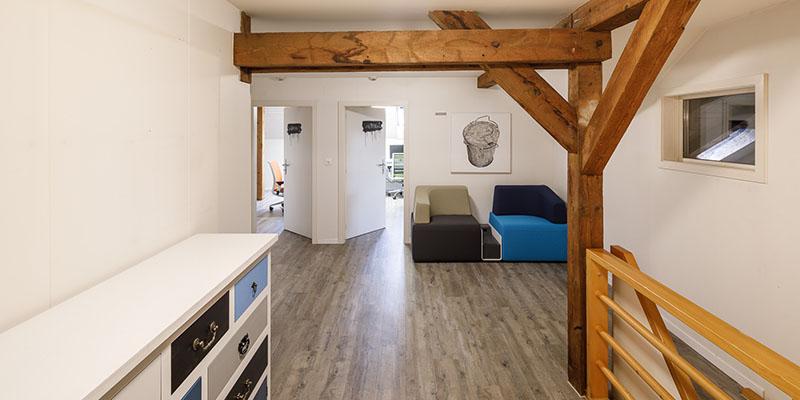 2) ACTIVE ROOM: OPEN YOUR HEART AND SWITCH ON YOUR MIND.
A change of environment often triggers a process of change that affects the entire work and corporate culture and contributes to a significant increase in identification, motivation and added value. The Active Room offers space for a special class of welcome events, active presentations and workshops. A convivial coffee and tea break on inviting floor cushions allows your participants to physically and mentally arrive and creates the perfect environment in which to lay the groundwork and sow the seeds of something great.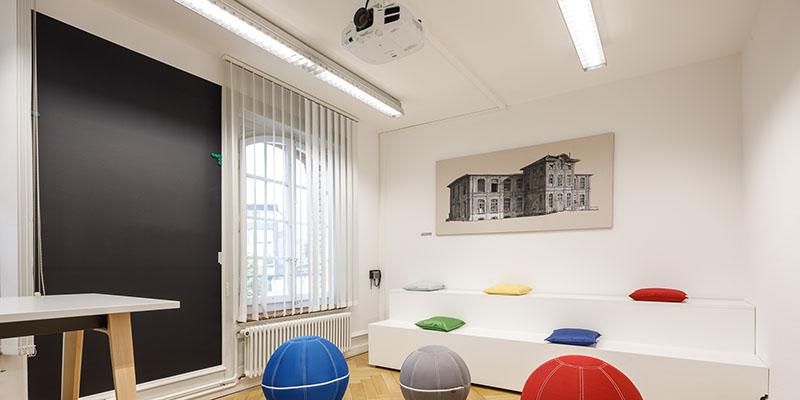 3) THINKTANK: FIRE OFF SOME THOUGHTS AND JOT THEM DOWN.
For participants, entering the ThinkTank is like reaching a new continent. It's a place to hold discussions, facilitate inspiration, create space for new inventions, and discover new paths. Nothing is the way it used to be. Creativity knows no bounds. Fresh ideas are committed to paper and placed on the wall.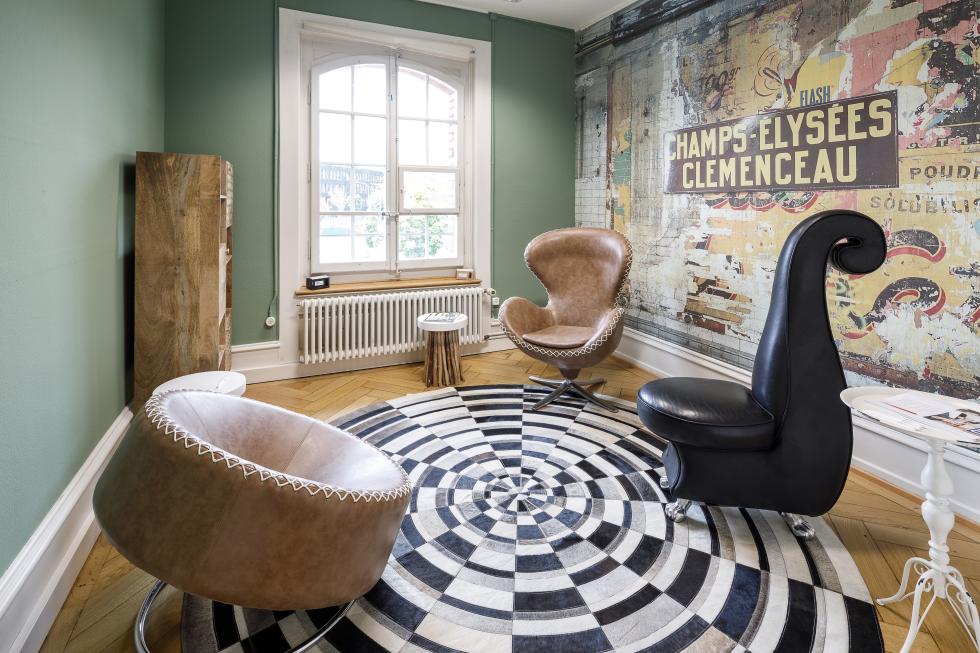 4) PROJECT ROOM: BRIDGE THE GAP BETWEEN THEORY AND PRACTICE.
Training sessions, workshops and practicable concept development all take place in the Project Room: this is where large and small groups alike gather, assess and evaluate ideas. The large walls double up as whiteboards and magnetic boards. A well-stocked moderator box contains sufficient materials to illustrate, organise and consolidate thoughts. This Project Room is a moderator's paradise: it facilitates the efficient development of practical results.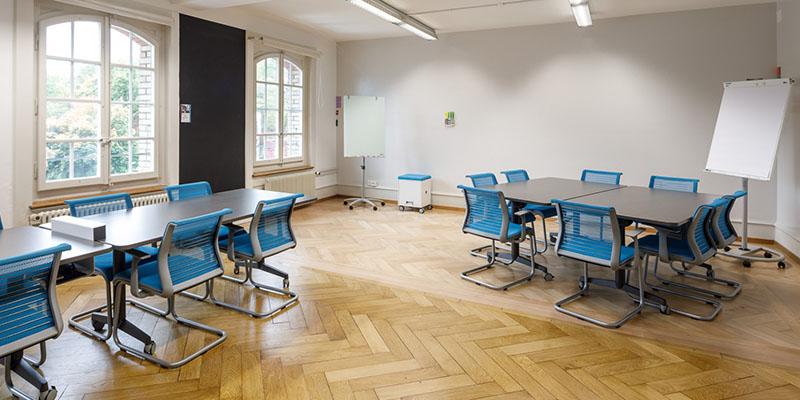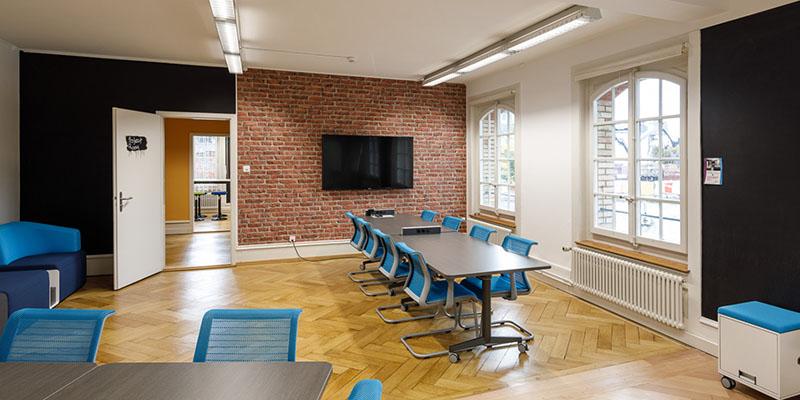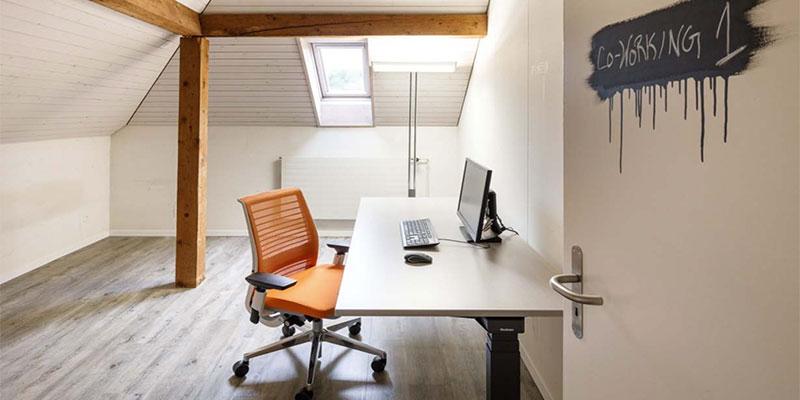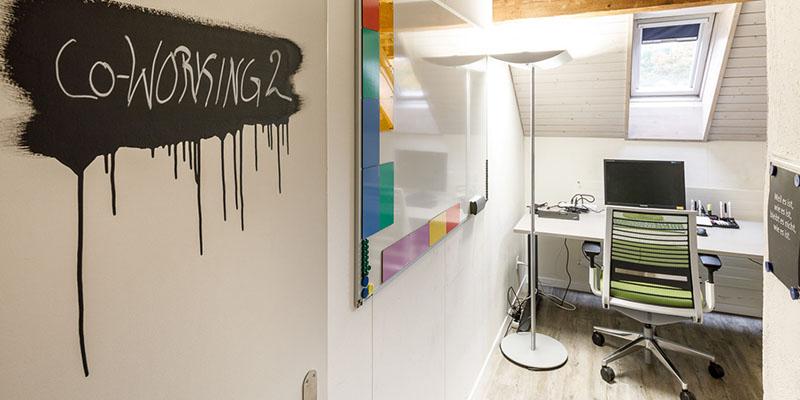 Creative group work that alternates between sitting and standing is an important part of effective modern solutions. Proven, future-oriented ways of working are state-of-the-art in the Collaboration Lab. Bright rooms flooded with natural daylight promote mental performance and provide for intensive work cycles.
You can withdraw to the co-working rooms to develop approaches and focus on the output. There is no risk of distractions: the workspaces serve as a retreat for maximum productivity. Privacy is guaranteed, so it is even possible to hold remote meetings with confidential inputs, such as those from stakeholders.
 
5) TAKE A BREAK, REWARD YOURSELVES AND CELEBRATE SUCCESS.
The spacious roof terrace offers the perfect solution for every need – whether you are looking for an outdoor workspace, or a relaxed place to wind down, take a break, enjoy a meal or celebrate successes. Thanks to the cosy lounge and gas-fired barbecue, it's a great place to wind down after an intensive day of work. This oasis of relaxation can even be used when it's raining – a conservatory offers protection from wet weather while still allowing participants a breath of fresh air. As a host, you can reward people here and allow them to re-energise. 

The upper floor is also home to the Chill-out Room, in which participants can clear their minds over a convivial game of table football.
There are also facilities for those who wish to go running over lunchtime or others who just want a relaxing shower: the spacious, hotel-type bathroom leaves no wish unfulfilled.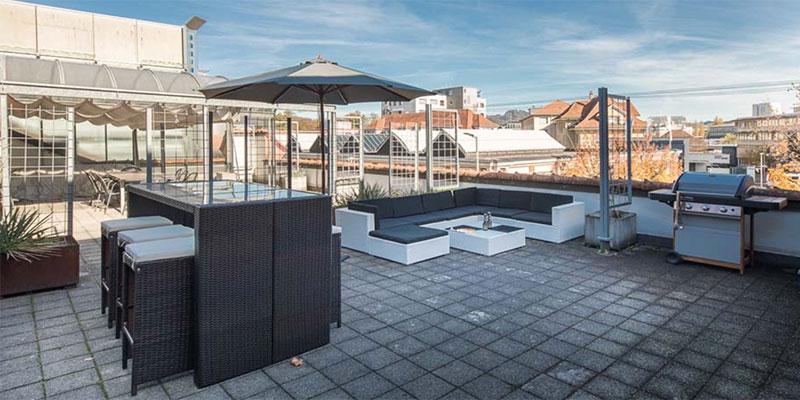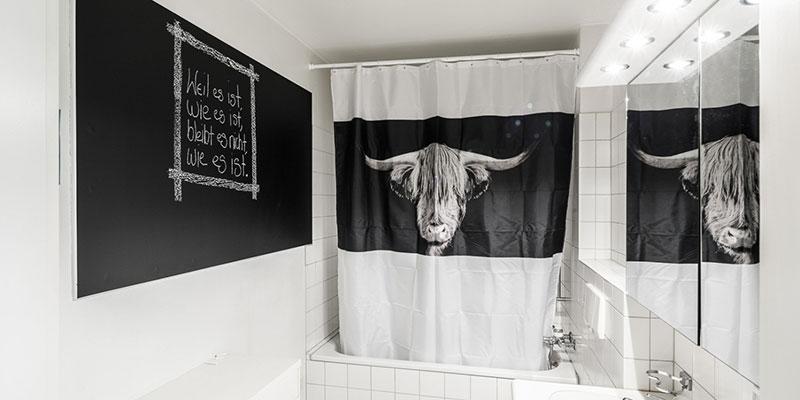 We have created a Collaboration Lab in which you can guide your team to new horizons. Now it's your turn. Contact us and come and see our Collaboration Lab for yourself. Prepare your next event with us and offer your employees, course participants or project stakeholders an unforgettable collaboration. We look forward to hearing from you
Further information and booking enquiries:
Facility Management Bern: