Aerospace Wind Tunnel: Success is based on the latest technology and infrastructure
Aerodynamics is a decisive factor. Count on our testing experience. The Wind Tunnels in Emmen, Switzerland provide the ideal facility to support you with the design of (wind tunnel) models, instrumentation and sensors, performance of tests and numerical simulations, covering the complete development cycle from conceptual / preliminary design up to the final aero database identification.
With its spacious test section, the Large Subsonic Wind Tunnel in Emmen (LWTE) is one of the largest wind tunnels in Europe. Through continuous improvements and the introduction of new measurement capabilities, the requirements of modern wind tunnel testing are fully covered.
| | |
| --- | --- |
| maximum speed | 68 m/s |
| Mach number | 0.2 |
| Reynolds number | 4.5E6 /m |
| width | 7 m |
| height | 5 m |
| length | 15 m |
Advantages of our wind tunnels in Emmen
Contact
Manager Department of Aerodynamics
Propeller Aircraft Test
RUAG's Large Wind Tunnel Emmen (LWTE) is used extensively for the development of passenger, transport and trainer propeller aircraft. Especially for conventional as well as for counter rotating open rotor (CROR) multi-engined airplane configurations, the challenges for powered wind tunnel testing lie in the large power density that is necessary to realistically simulate the propulsion system and the geometrical constraints within the given scaled aerodynamic nacelle lines.

For many years, RUAG has focused on hydraulic motor technology to drive the propellers or fans of wind tunnel models. Robust engines which provide abundant power, precise RPM control, favorable temperature characteristics which allow continuous operation, reasonable investments in infrastructure and model hardware, low operating cost and high productivity are just a few of the advantages. Customers can rely on extensive expertise in the development and operation of customized hydraulic motors and their associated control and measurement systems for wind tunnel model applications.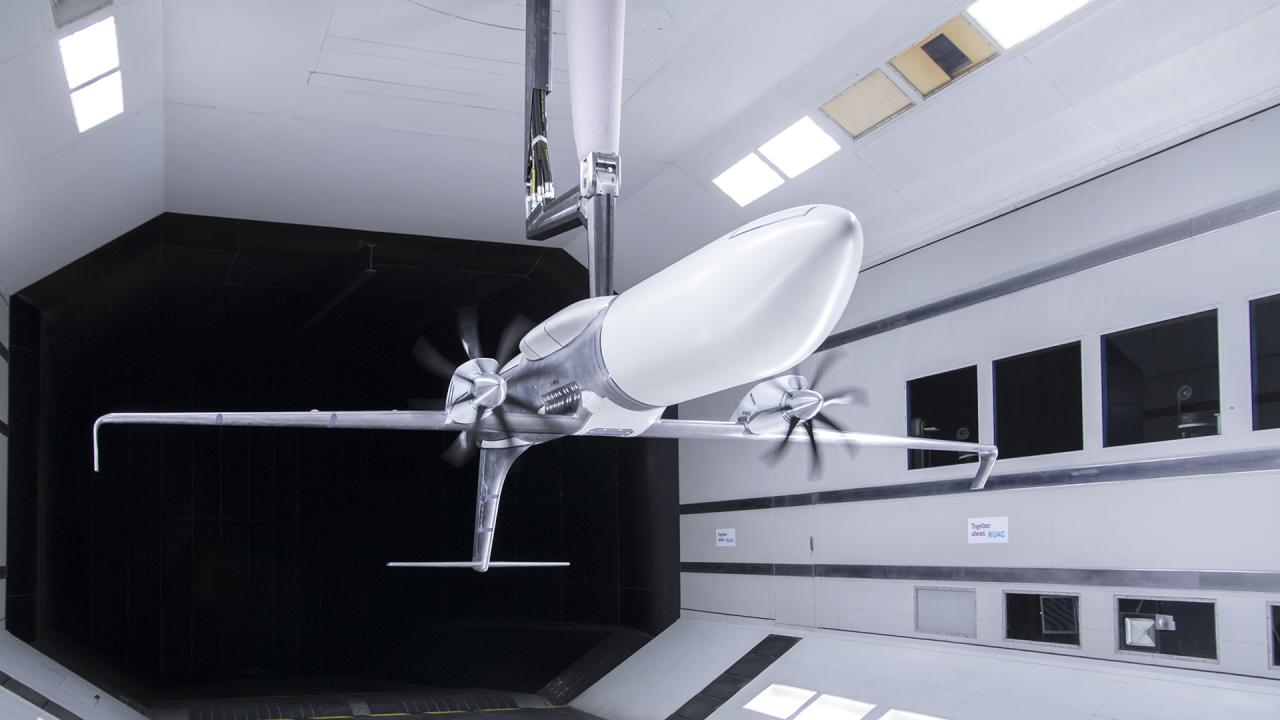 Full Scale Propeller Investigation
The hydraulic motor technology is scalable and full-scale propellers up to 3 meters in diameter have been tested. The four hydraulic pumps are capable of generating a total of almost 1MW of hydraulic power and are, for this application, combined to power a single motor. The motor, together with a RUAG 6-component balance which measures the aerodynamic loads on the propeller, is encased within a drop-shaped aerodynamic fairing.

This assembly is attached to the upper strut and can be yawed. Additional instrumentation is used to accurately control the rpm and monitor the dynamics of the system, as well as to ensure safe operation throughout the test envelope.
Jet Aircraft Intake Tests 
To study the flow distortion at engine inlet plane, intake tests are performed. Suction capacity up to 4 kg/s can be provided. Depending on customer requirements, the flow distributions in the intake is measured with rakes equipped with total pressure probes (static and dynamic), flow angularity measurements and temperature probes.
Modern Measurement Techniques
Modern measurement techniques are made available to our customers through collaborations with research institutes and companies with proven expertise in their respective fields. Our subcontracted partners have detailed knowledge of our facility, understand customer requirements, are able to field the most modern equipment, provide well-honed crews and guarantee efficient test performance and high quality results.

Available techniques include 3-component particle image velocimetry (PIV), acoustic measurements for sound source localization with a wall mounted microphone phased array, optical position and deformation measurements, IR-thermography for transition detection and pressure/temperature sensitive paint measurements.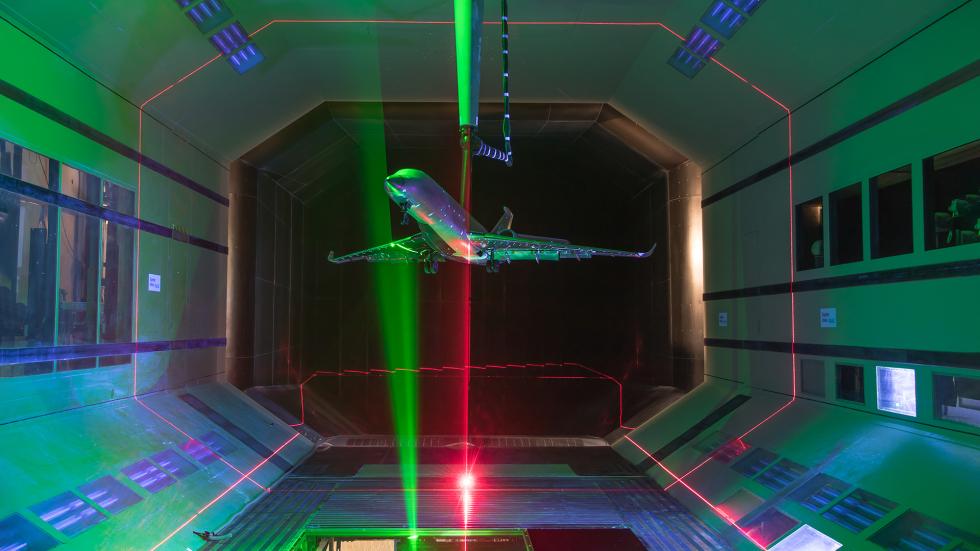 Download
Would you like to learn more about our services? Here, you can download various additional information.