Sustainability as a mandatory criteria for everything new
Regardless of whether it is constructing a new building or replacing lights - Nowadays not only technical criteria are considered, but sustainability has become a major priority. In the past year, RUAG has once again introduced numerous measures for more environmental sustainability. Some have already been implemented and in other cases the company is making great strides in the planning process.
Since 2020, RUAG and other large and federally-affiliated companies have been part of the "Exemplary Energy and Climate" initiative of the Federal Office of Energy. The involved parties commit themselves to reaching the defined targets within a given timeframe. For instance, this includes increasing their energy efficiency, the share of renewable energy they are using and their ecological electricity production.
We continuously improve our energy efficiency by converting our lights to LED, procuring energy-efficient pumps, boilers, fans, home automation and other equipment or by insulating roofs and facades as well as realizing new buildings according to the requirements of sustainability labels. In 2021, we already reached the target of increasing the share of electricity gained from renewable energies. All of RUAG's power comes from hydropower or solar power. We also made great progress with regard to oil and gas as energy sources: In Thun (Boden), the oil heating system was replaced by a pellet oven and, as of now, the Altdorf, Thun and Stans sites are already supplied with district heating. In the winter of 2023, the Emmen site will be integrated in the district heating system as well and there are ongoing negotiations for the integration of the Bern site.
RUAG also generates its own electricity from solar power. It already has solar plants in Bern, Thun and Emmen and is planning photovoltaic plants at other sites. Until 2023, the production shall be increased to 3,000 MWh/a.
In other areas, too, we have achieved a great deal: We control the weeds at our sites without herbicides, our apprentices have implemented a biodiversity project in Emmen and we have installed more than 25 electric charging stations for e-mobility. Moreover, the first ten electric vehicles are ready for use, we are conducting internal trainings on sustainability and we are establishing an eco-fund for environmental and energy projects.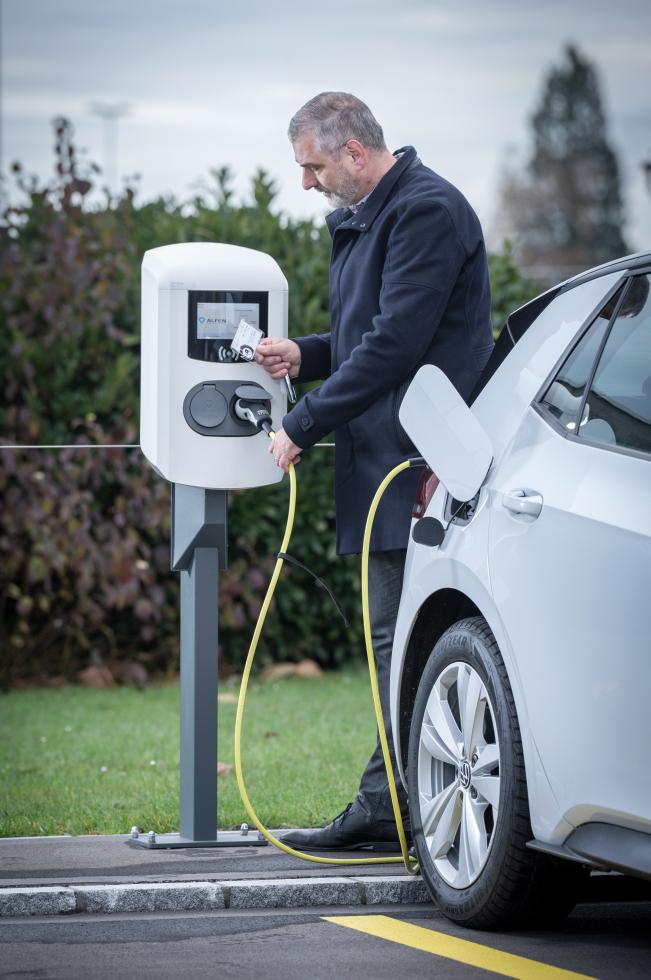 DANIELE MALNATI, HEAD OF THE ENVIRONMENT SPECIALIST UNIT
Daniele, how is the term sustainability defined at RUAG?
At RUAG, we consider three different aspects: With regard to ecological concerns, we make sure, for example, to use recyclable construction materials, whenever possible, or to reduce our CO2 emissions by using renewable instead of fossil energy. In terms of the economic aspect, we think about where it makes sense to invest money in an environmentally friendly way today so that in the future we do not have to spend large sums of money to remediate environmental failures. Finally, regarding social sustainability, we deal with topics such as work environments, safety at work, work-life balance and health.
Where do the inputs and ideas for new projects come from?
I am especially pleased about ideas and suggestions from employees. Often, there are lots of "small" measures that contribute significantly to our success. As a company with close ties to the federal government, we adhere to the requirements of the climate targets of the Confederation and we are part of the "Exemplary Energy and Climate" initiative of the Federal Office of Energy. Networks and contacts with other companies also play a big role. This exchange of ideas is very inspiring and drives us forward as well
How has your own behavior changed since you started dealing intensively with these topics?
I have become much more attentive to nature and the environment. In contrast to a few years ago, I pay more attention to my ecological footprint, also when it comes to my diet. If I need to get from A to B, I consider whether instead of taking my car, I could use public transport or my bicycle. Thus, I can often be seen on my e-bike on my way to the office in Bern or to a meeting in Thun. I think that – in environmental protection as in other areas – the best way to convince people is to lead by example.