Modular system - individual solution
Here you can find an overview of our customized services as well as our hard- & software products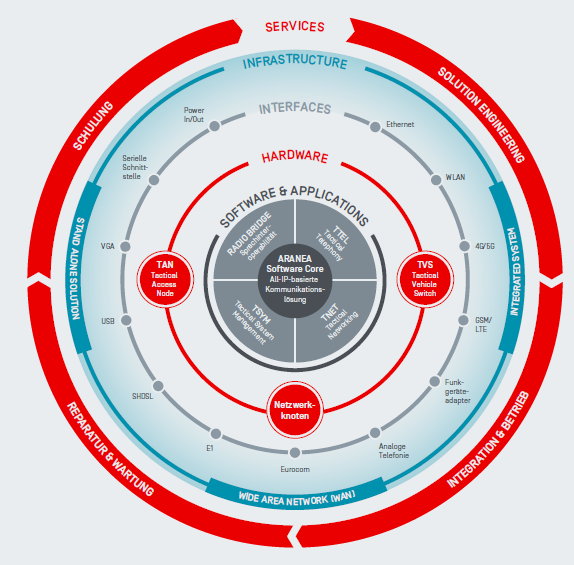 ARANEA Software Core
For reliable voice and data communication. The All-IP based communication solution is the core of the following applications:
For integration of voice radio systems. Allows connection of multiple voice radio networks to one remote control via the Radio Operator console.
TACTICAL TELEPHONY (TTEL)
VoIP-based telephony system for tactical networks. With affiliation, dynamic numbering plan, replication of the subscriber directory, Secure Tactical Messaging (TMSG) and tactical video conferencing platform (TCON)
TACTICAL SYSTEM MANAGEMENT (TSYM)
With various applications for configuration, control and monitoring of networked communication devices and network nodes. From the Radio Operator App for controlling a local Radio Bridge to the complete Network Management Suite for easy administration of complex networks.
TACTICAL NETWORKING (TNET)
Tactical network services implement optimized routing protocols for tactical networks with little and changing bandwidth availability. The services incorporate the latest technologies e.g., Tactical SDN.
TACTICAL ACCESS NODE (TAN)
Integrated voice and data routers for fixed and mobile use. The routers ensure interoperable connectivity between different networks.
TACTICAL VEHICLE SWITCH (TVS)
The switches are used for voice and data communication within and between networks. Thanks to non-hierarchical networking, they enable efficiency at all levels.
Integrated System Solutions
Communication nodes for multinational operations (radio connection point)
Communication and data management solutions for command vehicles
VETRONIC vehicle information management
Networking of communication means and services for military WAN
Transition nodes to the military core networks (System of Systems)
Services
As a manufacturer-neutral full-service partner, we offer a convincing combination of services for our tactical communications solutions - from customer-specific system integration to efficient system support throughout the entire lifecycle.